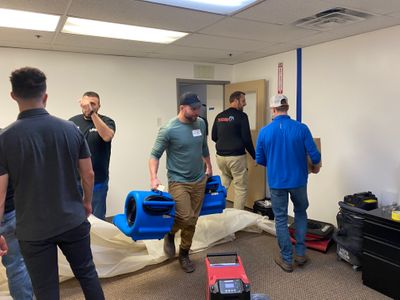 September 12th-13th, 2023 Technician Bootcamp
September 12, 2023 8am - September 13, 2023 1pm
Are you an owner or technician seeking to enhance your knowledge and streamline your production processes? Look no further than Restoration Made Simple. With our proven track record of helping numerous restoration companies nationwide, we can empower you to optimize resource allocation and witness tangible improvements in your operations.
Our Approach:
Communicate: Effective communication among all parties forms the bedrock of successful restoration projects.
Document: Accurate documentation ensures a successful drying process and enables restoration companies to receive proper compensation for their work.
Innovate: Equipping technicians with a strong foundation of knowledge and skills enables them to meet the unique demands of each job with confidence.
Ideal for aspiring owners and technicians eager to elevate their skills to new heights. Join us now for a transformative learning experience for $600 per attendee. 20 Attendees Limit.
Location: Armasco 542 Confluence Ave. SLC, UT 84123